Medical Malpractice Lawyers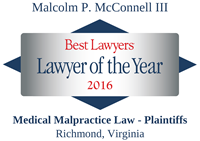 Medical professionals have a duty to provide you with reasonable care. If they fail in that duty, they are negligent and have committed malpractice. A bad result, a disagreement among different doctors, or even a medical mistake does not necessarily mean malpractice has occurred - only unreasonable behavior by a physician is malpractice. Further, a claim for malpractice can be made only if the unreasonable behavior caused an injury.
The experienced team of attorneys at Allen, Allen, Allen & Allen handle personal injury cases involving the negligence of physicians, hospitals, and other health care facilities and providers.
We have experience that covers a wide range of medical negligence, legal issues, and medical conditions including:
Health care professionals (doctors, nurses, surgeons, specialists, laboratories, pharmacies)
Health care institutions (hospitals, emergency care centers, nursing homes, acute care facilities)
Anesthesia
Aneurysm
Bariatric surgery
Bile duct injury
Birth asphyxia
Birth-related neurological injuries
Bleeding
Brachial plexus injury
Cancer
Cerebral palsy
Drug overdose
Heart attack
Hemorrhage
Infection
Kidney Damage
Paralysis
Plastic surgery
Renal Disease
Sepsis
Septic Shock
Stroke
We'll work hard for you. Contact our medical malpractice team to get started with a free consultation by calling 1-866-388-1307.
In 2001, Allen, Allen, Allen & Allen launched its medical malpractice group led by Malcolm P. McConnell, III and Jason W. Konvicka. Our medical malpractice lawyers have proven their expertise by winning numerous jury verdicts and settlements including:
A substantial verdict in a Fredericksburg, Virginia court for a client whose severely swollen spinal cord went undiagnosed by his doctor. At the time this was the largest medical malpractice verdict in Virginia.
A substantial verdict in a Charlottesville, Virginia, court for a young client who lost vision in his right eye when a nationally known pediatric ear, nose, and throat specialist at the University of Virginia Hospital allowed a resident to perform surgery without informing the patient's mother. Allen & Allen tried the case exclusively on the issue of informed consent, arguing that a parent has a right to know who is operating on his/her child. The jury agreed.
A substantial settlement on behalf of a family that lost a loved one due to nursing negligence in a Washington, D.C. area hospital. The lawsuit was pending in federal court and settled shortly before trial.
We have multiple listings in Virginia Lawyers Weekly's annual listings of the year's highest verdicts. Click here to view some of the results we have secured on behalf of former clients.
Our experienced lawyers and staff will work hard to represent you. For a free consultation and to talk about your case, call us at 866-388-1307.
When looking for a lawyer to handle your medical malpractice case, choose a Virginia law firm with proven results. Allen and Allen has locations throughout Virginia in:
Richmond, Chesterfield / Midlothian, Short Pump / Glen Allen and Mechanicsville
Petersburg
Fredericksburg and Garrisonville
Charlottesville
If your injuries prevent you from traveling to our office, we will come to you. The Allen Law Firm is one of Virginia's oldest and largest personal injury and medical malpractice law firms and we are here for you.