Nursing Home Malpractice Lawyers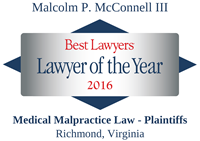 If you suspect that an elderly or disabled relative has experienced abuse or neglect while living in a nursing home, adult home, assisted living facility or other long term care residence, call Allen, Allen, Allen & Allen for a free consultation: 866-388-1307. We help victims of nursing home negligence and their families obtain fair and just compensation for injuries or death caused by inappropriate care and treatment. Our attorneys are effective advocates for those in our communities who are the most helpless and dependent, people who cannot defend or stand up for themselves.
Why You May Need An Attorney:
It takes an experienced medical malpractice attorney to recognize the patterns of neglect and abuse that indicate a nursing home resident has not received the proper care and treatment Virginia law demands and the resident deserves. Nursing home managers may not tell family members about injuries or medical conditions caused by a staff member's negligence or carelessness. Written care and treatment records are often deficient and fail to describe how and why a resident was injured.
Sometimes, family members observe warning signs, symptoms, or indications of possible malpractice. These include:
Bed sores, also known as pressure sores, pressure (decubitis) ulcers
Medication errors
Dehydration and malnutrition
Inadequate staffing and poor supervision
Patient abuse including sexual assault by nursing home employees or other residents
Falls
Bruises
Unexplained injuries or death
Poor hygiene
Repeatedly allowing an impaired resident to leave the facility without the nursing home's knowledge or supervision
If a nursing home or long term care facility resident is seriously injured or dies as a result of one or more of the circumstances described above, the resident or his family may have a legal claim against the facility. The medical malpractice team at Allen, Allen, Allen & Allen can review the facts, gather the evidence, and help determine whether malpractice is the likely cause of the injuries or death.
What Does It Take To Prove Your Case?
To prove a nursing home malpractice case, medical experts must testify
that employees of a long term care facility failed to render care and treatment that meets the prevailing standard of care in the industry, and
that this breach of the standard of care caused the resident's injury or death.
Allen and Allen lawyers know how and where to find expert witnesses who are qualified to give the expert opinions required under Virginia law. These experts may include physicians, nursing home administrators, nurses with advanced degrees and nutritionists.
Nursing homes and long term care facilities should be held accountable for the harm they cause the most vulnerable of our society, our senior citizens and the severely disabled. Our firm's medical negligence lawyers bring comprehensive knowledge of the law, thorough research, careful preparation and hard work to every case they undertake. Call us at 866-388-1307.