Gastric Bypass Surgery Malpractice Lawyers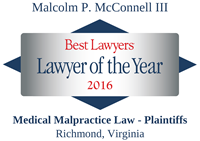 Gastric bypass surgery is a medical procedure designed to facilitate long term weight loss. Weight loss surgery can be very dangerous, despite proper care. There are recognized risks and complications associated with this surgery regardless of the level of care a patient may receive. Even patients who receive appropriate treatment may develop serious complications. However, sometimes gastric bypass patients do not receive proper care, resulting in serious, permanent injury and even death.
If you or a loved one believes you are the victim of medical negligence resulting from gastric bypass surgery, put the Allen, Allen, Allen & Allen medical malpractice attorneys to work for you. Call us at 866-388-1307 or click to email for a free consultation.
Our Medical Malpractice Attorneys
Malcolm McConnell and Jason Konvicka, the medical malpractice attorneys at Allen, Allen, Allen and Allen, have experience in investigating and evaluating gastric bypass surgery malpractice cases. They can determine if a patient has been the victim of medical negligence. Click here for more about successful gastric bypass surgery cases Allen Law Firm attorneys have handled.
The Allen, Allen, Allen & Allen medical malpractice team includes full-time nurses who work closely with our attorneys, legal assistants and medical experts to gather medical records, review medical literature, and research critical issues in modern medicine and surgery. Our nurses understand patient issues because they have worked in hospitals and physician offices, side by side with medical doctors, to deliver quality care to patients. They are trained to understand a patient's medical history and are able to identify key elements in our client's medical records to help determine if they received proper care.
Expert Witnesses
Essential to every gastric bypass surgery malpractice lawsuits, are the medical experts the plaintiff's attorney finds to testify in court that there was medical negligence. Patients, their families and attorneys are not allowed to testify to whether the action in question was negligent. Expert witnesses must testify that the health care provider(s) committed medical negligence and the expert must confirm that the negligence caused the plaintiff's alleged injuries or death. The Allen Law Firm's medical malpractice team has over 50 years of combined experience finding highly respected, qualified physicians, surgeons and nurses who are recognized in gastric bypass surgery. These expert witnesses often work in university settings teaching medical students and training residents and fellows.
Defining Medical Malpractice - Gastric Bypass Surgery
Poor results from gastric bypass surgery, or any other medical treatment, are not medical malpractice cases unless certain elements are present. First, the medical professional involved must have been negligent. "Negligent" does not mean that a bad result occurred, that a mistake was made, or that another professional would have done things differently. "Negligent" means that the professional acted unreasonably; that he acted in a way no reasonable professional would have acted under the circumstances. Second, the bad outcome must be due to that unreasonable act, rather than the underlying condition or some circumstance outside of the professional's control.
One of the most common complications in gastric bypass surgery is leakage. The complex surgery involves cutting of the stomach to create a much smaller pouch to receive food, and the digestive system is reconfigured to prevent larger amounts of food from being eaten. If a connection is not secure, digestive contents may leak into the abdomen and cause infection. If the infection is not promptly identified and properly addressed, the abdominal infection can spread throughout the body and cause injury or death.
Surgeons agree that the mere occurrence of a leak is not medical negligence. However, failure to recognize the signs and symptoms of a leak may constitute negligence.
What are some of the signs and symptoms which may indicate the presence of a leak?
An unexplained rapid heart rate
A significant and unexplained fever
Significant abdominal pain (more than would be expected from the surgery itself)
If you or someone in your family has undergone gastric bypass surgery and has suffered severe and unexpected medical consequences, contact Allen, Allen, Allen and Allen at 866-388-1307 or email us for a free consultation.
We know the medical malpractice laws in Virginia and can explain your legal rights and the alternatives you face in undertaking a gastric bypass malpractice case.